Blown

Fibre

WE'LL HUFF.
WE'LL PUFF.
AND WE'LL...

quickly, efficiently and cleanly blow your fibre for you.
Blown Fibre

the overview

When you need to install a new length of fibre, how would you describe the process? Clean, quick, simple, efficient... future proof?

If that sounds wide of the mark in your experience, it's quite possible you're not taking advantage of the best practice installation method: blown fibre.

Blown fibre is as simple as it sounds: take some fibre optic cable, and propel it down a length of pre-installed tubing (duct) with a combination of air and mechanical pushing.

No pools of jelly, no wasted coils of slack sitting around, no struggling, no frustration.
---
what you can
expect
Key

Features
We can do as much, or as little as suits you:
If you want to take care of duct installation, we'll provide a comprehensive pre-installation briefing with site preparation support — or we can take on the full job for you
Termination equipment included: 1U rack mount panels, 0U boxes or wall-mount ODFs
Duct tube and fibre included: 2-12 fibres per tube, 1-24 tubes per duct cable
Quality guaranteed:
Low smoke zero halogen (LSZH) cable to meet fire-hazard requirements for indoor use
Fusion-spliced terminations minimise light scattering for maximum signal quality
Optical-loss report provided upon completion, with optional OTDR testing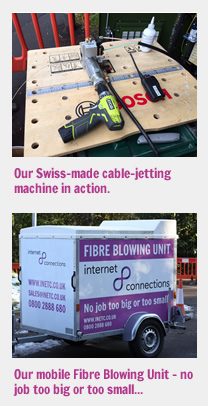 Get
in touch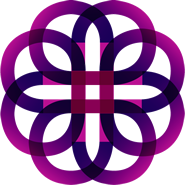 We're here to help with
blown fibre
Ready to talk? Whether you're coming to us armed with all the knowledge you need, and just need to iron out the final details, or you'd like the full lowdown on how our blown fibre service can make cable installation easier for your business, we're ready and waiting to help.

0800 2888 680
Client testimonial
Our clients demand quality and Internet Connections deliver. Their in depth understanding of networks make them an essential partner for Teledata.
Pat France, Teledata UK