Latest

Developments

Keep up to date with what's making the headlines at Internet Connections. For further information about any of our news items, please call on 0800 2888 680 or contact us online.
---
Superfast II — It's On And It's Official!
3rd August 2016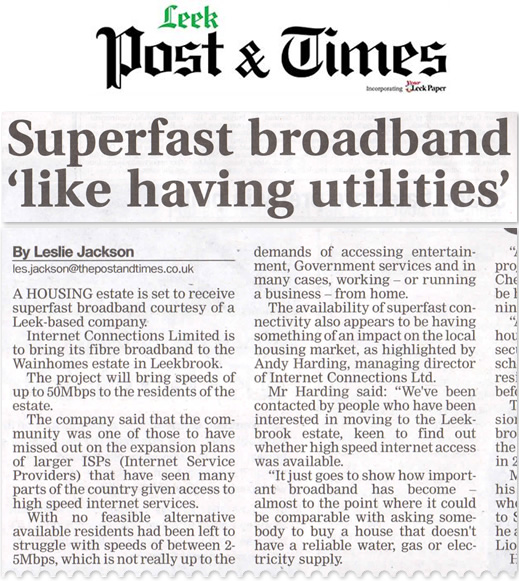 Back in March we announced our proposal (given enough demand) to expand our superfast network to an additional rural estate. Well, the good people of the Wainhomes estate at Leekbrook (near Leek, Staffordshire) had their say — and they said a resounding "yes!".
A few months down the line, and we're in the thick of the project to bring superfast broadband speeds to the estate, and banish once and for all the frustration of sub-5Mb speeds.
We'll let the Leek Post & Times take up the story...
---
Superfast II: The Return!
14th March 2016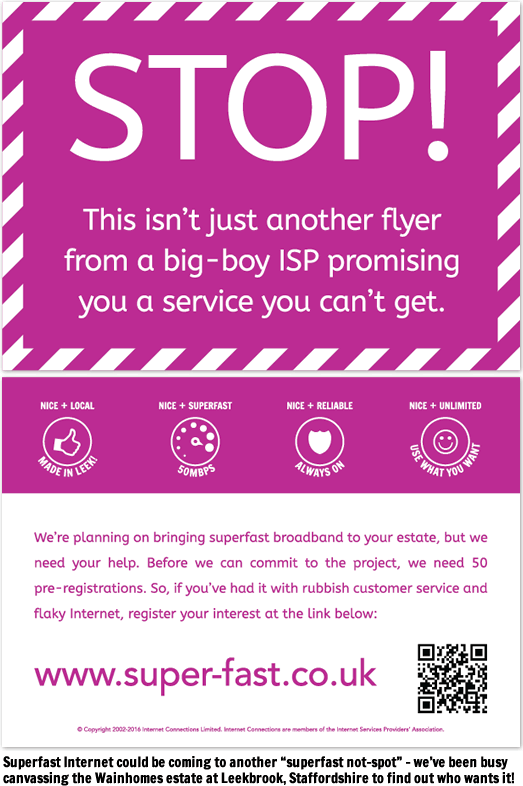 Unbelievably, it's getting on for three years since our first community broadband project finally transformed St Edwards Park in Cheddleton from a superfast "not-spot" into a superfast "hot-spot".
Now, it's time to turn our attention a mile or so down the road to another broadband blackhole, the Wain Homes estate in Leekbrook. Unfortunately, the community there has (like St Edwards Park a few years back) missed out on Openreach fibre roll out. As this doesn't look like changing for the foreseeable future, we've got plans in place to extend our network to provide coverage that would see speeds of up to 50Mbps possible - a welcome upgrade from the 2-5Mbps we're hearing reports of.
All we need to kick-start the project and get the estate up to speed is enough interest from residents to make the investment feasible. We're looking for 50 households to register their interest, and once we reach that milestone, the work will begin...
---
From Superfast To Ultrafast
16th February 2015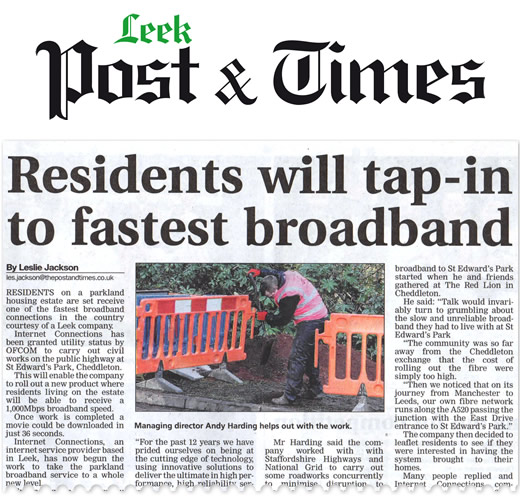 The next stage of our rural broadband project has begun — we're expanding our infrastructure on St Edwards Park in Cheddleton to enable a 1000Mbps "fibre to the home" service.
Building on the foundations of our original project that introduced a superfast fibre service to the community, the expansion will also bring a range of high speed broadband services to the areas of the estate that were unable to take advantage of our superfast service.
Andy Harding, director and founder of Internet Connections commented:
For a company that is community focussed, we're really excited that the investments we're making to our high speed fibre optic network here in Cheddleton will bring great benefits to the people of St Edwards Park who will soon be able to receive the kind of speeds that could only previously be dreamed of.
We'll be providing further updates as developments continue — in the meantime, take a look at our coverage in the local press for the full story!
---
Internet Connections Gains Utility Status With Ofcom
14th January 2015
We're pleased to announce that we've been granted utility status by Ofcom.
Utility status allows us to excavate the public highway and removes our dependance on third party providers — great news for customers that want us to build bespoke fibre networks, as it simplifies the process enormously.
A word from Andy Harding, Managing Director at Internet Connections:
One real world example of this in action that we're really excited about relates to plans for taking our rural broadband project to the next level by offering 1000Mbps fibre right into people's homes — potentially transforming one little corner of Staffordshire into one of the fastest villages in the country.
For more information, please contact us.
---
Broadband Delivery UK Connectivity Voucher Scheme — Registered Supplier
12th September 2014
We're now a registered supplier for the Broadband Delivery UK (BDUK) Broadband Connectivity Voucher scheme — a Government-funded initiative that aims to help UK SMEs to benefit from superfast connectivity services.
Delivered across 22 "SuperConnected Cities", the scheme awards qualifying businesses grants of up to £3,000 which can be used to help cover the costs of establishing a superfast fibre connection.
For more information, take a look at our voucher scheme overview page.
---
Almost One Year On: Our Rural Superfast Broadband Project
12th March 2014
It is approaching a year since the launch of our rural superfast broadband service for the community of St Edwards Park in Staffordshire.
Prior to the roll out of the service, the story for residents was one familiar to a lot of rural communities: access to fibre broadband was a dishearteningly long way off in the future — or not even on the agenda.
Even with the help of government schemes such as Broadband Delivery UK, which are looking to address the provision of what is an increasingly important service (some might say, the "forth utility") the imbalance between urban and rural areas will remain for the foreseeable future.
Adding to the impact that poor connectivity has on the lives of those living and working in rural areas — from the difficulties involved in running commercial operations and working from home, to streaming a movie or shopping online — a number of further, serious concerns are emerging. Only last week, research emerged that the lack of a superfast connection could impact the value of property by up to 20%. It has also recently been suggested that poor connectivity can put children in rural communities at a disadvantage when it comes to education.
So, for those parts of the country that are excluded from the roll out of superfast services, privately funded and facilitated projects are the only answer.
More more information about how Internet Connections delivered a superfast fibre broadband service to a rural community in just six months, download the case study of St Edwards Park.
---
New Point Of Presence Brings Benefits To Staffordshire Businesses
19th August 2013
We've expanded our national network to include a new Point of Presence (PoP) in Cheddleton, Staffordshire.
First of all, what's a Point of Presence or PoP? A simple definition would be an access point from one place, to the rest of the Internet. Our new local PoP allows us to break out and access our fibre network in Cheddleton.
This latest investment serves two purposes: first of all, it was part of the infrastructure expansion that was necessary to deliver our community Superfast Broadband project to the nearby St Edwards Park estate.
Secondly — and this is where the exciting part for local businesses comes in — the new PoP means we are now able to deliver our core service of high speed fibre connectivity to local sites at a significantly lower cost than was previously possible.
Why's that? Until now, all of our PoPs have been located in and around the major UK Internet hubs of London and Manchester. With fibre, the further the distance between your site and the PoP, the greater the cost of supplying connectivity. Whereas before, Staffordshire based businesses would have been required to source a connection from our nearest PoP in Manchester, suddenly the situation is changed. Now that we can source connectivity from our Cheddleton PoP, the distances involved for local businesses are cut dramatically — as happily, are the costs.
Here's a word from our Managing Director, Andy Harding:
"Expanding our network here into Staffordshire is a going to have a really positive impact on our region. First of all, we can lower the price point at which existing local businesses can access the kind of high speed, dedicated connectivity services they need to increase their competitive advantage. That's a really important point to make — the reality is that for a lot of businesses these days, a lot of what they do is reliant on their Internet connection. The faster and more reliable that connection is, the more productive and successful they can be. At the same time, the fact that affordable commercial-level connectivity is now available in the region will be attractive to new businesses looking to move into the area, so we see this latest development as beneficial to the wider community too."
Find out more about our high speed, dedicated leased line services here.
---
New Point Of Presence At Heathrow Data Centre
22nd July 2013
Internet Connections has completed work to establish a strategic Point-of-Presence (PoP) at Sentrum-Colo's state-of-the-art data centre in Hayes, near to Heathrow International Airport.
The List-X security rated, Tier III+ facility is the latest to be populated by Internet Connections, bringing the company's number of on-net locations in the UK to eight.
Andy Harding, Managing Director of Internet Connections commented:
"Our new partnership with Sentrum Colo strengthens the resilience of our network in Greater London, and as part of our expansion strategy to provide a comprehensive UK-wide network for our customers, their data centre was the ideal fit. The impressive specifications of the facility speak for themselves, while the Heathrow location allows us to provide our commercial leased line connectivity services at a much lower cost than before, to regional businesses who need something more capable and robust than off-the-shelf broadband."
Internet Connections' investment at the data centre also means that tenants at the Sentrum Colo facility will be able to take advantage of a new and diverse range of full, partial and tier 1 IP transit products. With a greater market choice of carriers, and increased options for building network resilience, this premium data centre now offers even greater business and strategic value to existing and prospective customers.
Sales Director at Sentrum Colo, Graham Monro, welcomed the development:
"Internet Connections' decision to invest in a presence at our site reflects both the calibre of our data centre and the strategic value of its convenient location which is easily accessible from both Central London and Heathrow. This new partnership also adds significant value for our customers, who will now be able to take advantage of a new, wider range of high quality carrier options."
For more information, please visit www.inetc.co.uk or call 0800 2888 680.
About Internet Connections
"Get connected. Stay connected." — Internet Connections provide connectivity services to small businesses and large enterprises throughout the UK. From leased lines for dedicated Internet access, to IP transit and network consulting, our focus is on providing an unparalleled level of support and reliability to our customers, ensuring their satisfaction and a lasting relationship for years to come.
About Sentrum Colo
Sentrum Colo operates a List-X, tier III+ data centre facility in Hayes which includes technical space and disaster recovery facilities. Working with companies of all sizes, the team of specialists collaborate with customers to remove the complexity of colocation via scalable solutions with flexible terms, and offer excellent connectivity with multiple carriers. It is an environmentally conscious company using 100% renewable electricity.
More about Sentrum Colo: www.sentrumcolo.com
---
A Superfast Rural Community?
25th February 2013
In what is becoming something of a trend for rural communities who wish to take part in the superfast fibre broadband revolution, Internet Connections has committed to building the infrastructure required to bring the high speed connectivity service to St Edwards Park, Cheddleton, Staffordshire.
Andy Harding, Managing Director of Internet Connections and resident of St Edwards Park explained:
"This is a plan that has been brewing for a couple of years now. Myself and several other residents of our community were really disappointed to find out that the roll-out of fibre infrastructure by the major telecoms providers was going to completely bypass our village. Because we're a relatively small community, we seem to have been overlooked, and don't appear to be in roll-out plans at all. If residents wanted high speed Internet at some point in the foreseeable future, it was clear that we'd need to take it into our own hands.
It was a happy coincidence on this occasion that the fibre network for Internet Connections happened to pass by the entrance to the estate, which made the task of getting superfast broadband on-site a feasible project."
Internet Connections carried out market research to establish whether the demand was there for superfast broadband; the enthusiastic response suggested that this is indeed the case, and with a pre-registration target of 50 households already on board, the decision has been made to press ahead with the infrastructure development phase.
You can keep up to date with the project milestones on our Superfast microsite.
---
Pow! Take That Big Boys... Superfast Fibre Broadband For Our Local Community
16th January 2013
Residents of St Edwards Park, Cheddleton, Staffordshire have been invited to register for a proposed high speed broadband project to be delivered by locally based company, Internet Connections Limited.
Promising speeds of up to 50Mbps — or 10 times the current average speed available to St Edwards Park residents — the service will bring forward access to so-called "superfast" Internet connectivity to this rural community.
Andy Harding, managing Director of Internet Connections and resident of St Edwards Park explained:
"Like many rural communities across the country, St Edwards Park is faced with a long wait for the roll out of superfast broadband. In fact, Cheddleton doesn't even figure in BT's fibre network plans for the foreseeable future. It made sense to take matters into our own hands and use the connectivity expertise and infrastructure available through Internet Connections to get high speed Internet out here to St Edwards Park in a much shorter time scale."
For further information, please see the Superfast broadband project website.
---
Christmas And New Year Opening Hours (and Season's Greetings!)
19th December 2012
A quick note about our opening hours over the Christmas and New Year break: we will be closed Monday 24th December to 1st January (inclusive). Arrangements for emergency situations (loss of service) will remain in place as normal throughout the holiday period.
Thank you once again for your support and custom during a significant year for us here at Internet Connections, which in November saw us start our tenth anniversary of trading. From all the team here, have a safe, happy Christmas, and our best wishes for a great 2013.
Andy Harding, Managing Director.
---
ICL Joins The Internet Services Providers' Association (ISPA)
10th December 2012
Internet Connections Limited today announced it had become a member of The Internet Services Providers' Association (ISPA), the UK's Trade Association for providers of internet services.
Andy Harding, Managing Director at Internet Connections commented:
"Although membership is entirely voluntary, we know it's vitally important that our customers can feel absolutely confident in the service that we provide. Joining ISPA is a great stamp of approval for Internet Connections, signalling as it does, our allegiance to the ISPA UK Code, and commitment to good business practice."
Full details of the ISPA Code of Practice can be found here.
---
ICL Sponsors IXManchester Regional Peering Event
3rd October 2012
Internet Connections sponsored the recent IXManchester regional meeting organised by LINX at the prestigious Cube Gallery in Manchester. IXManchester is the UK's newest Internet Exchange Point, and the event gave delegates the opportunity to learn more about the LINX regional peering initiative and developments at the exchange.
Presenting at the event, Stephen Bell, Commercial Director at Internet Connections commented:
"This is an exciting time for our region, and it's fantastic to be be a part of IXManchester. With the involvement of highly visible supporters such as the BBC, Manchester is now more than ever, a strategically important part of the UK internet infrastructure."
For more information, please visit the IXManchester website.
---
ICL Joins IXManchester
12th June 2012
Internet Connections today announced their membership of IXManchester, the first of LINX's regional UK peering points. Launched by LINX at Media City earlier this year, the UK's newest Internet Exchange Point (IXP) reflects the growing influence of Manchester within the UK internet infrastructure.
Andy Harding, Managing Director at Internet Connections commented:
"This is a significant step for Manchester because as the newest IXP outside of London, it formally recognises its standing as a hub of genuine strategic importance to the UK. As a long-standing member of the networking community here in Manchester, we're pleased to be a part of the initiative and look forward to seeing the positive effects it will no doubt have."
For more information, please visit the IXManchester website.